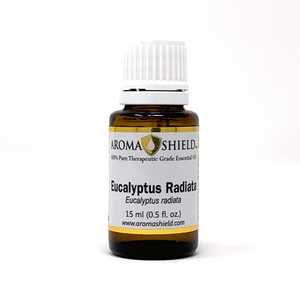 This oil has many of the same properties as Eucalyptus globulus, but is slightly finer its aroma and gentler in its effects.
DETAILS

BENEFITS

SAFETY

Reviews
Botanical name

Eucalyptus radiata


Country of origin

Australia


Extraction method

Steam-distilled from eucalyptus radiata leaves and stems

Dilution ratio

1:1 (parts essential oil to carrier oil)


Application method

Diffusion
Inhalation
Topical Application
Eucalyptus Radiata has been traditionally used to: 
Kill or retard bacteria 

Kill or retard mold and fungi

Reduce pain, redness, and swelling that accompanies inflammation

Relax tension in muscles and organs 

Kill or retard viruses

Reduce inflammation and mucus formation by tightening the vessels in the nose, throat, and sinuses

Dissolve thick mucus

Stimulate the nervous system
Keep out of reach of children and well away from eye area. If pregnant or under doctor's care, consult your physician before using.
These statements have not been evaluated by the Food and Drug Administration. Aroma Shield products are not intended to diagnose, treat, cure, or prevent any disease.