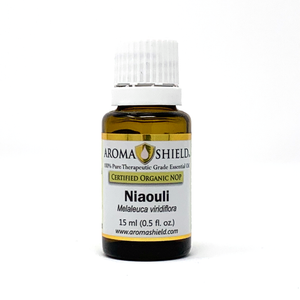 Niaouli oil has potent immunostimulant properties, including antiviral action that makes it an ideal option for colds and flu. It is sometimes referred to as MQV, an abbreviation of its scientific or Latin name. It has many similarities to tea tree oil, but some prefer its finer, more pleasant aroma. it can also be used for clearing the head and improving concentration.
DETAILS

BENEFITS

SAFETY

Reviews
Botanical name

Melaleuca quinquinervia viridiflora


Country of origin

Madagascar

Extraction method

Steam-distilled from organic niaouli leaves and stems

Dilution ratio

1:1 (parts essential oil to carrier oil)


Application method

Diffusion
Inhalation
Topical Application
Niaouli has been traditionally used to:
Reduce and soothe localized pain
Reduce pain, redness, and swelling from inflammation
Reduce cellular oxidation and prevent aging
Heal broken skin, abscesses, eruptions, and cuts
Help close and heal open cuts and wounds
Remove water from body tissues and increase urination
Shrink or tighten body tissues after topical application
Loosen airway mucus by increasing secretions
Stimulate the immune system and increase resistance to infection
Relieve anxiety and panic by calming and settling the mind
Support and improve nerve function
Calm and soothe the central nervous system
Support uterine health
Promote more regular and less painful menstruation
Keep out of reach of children and well away from eye area. If pregnant or under doctor's care, consult your physician before using.
These statements have not been evaluated by the Food and Drug Administration. Aroma Shield products are not intended to diagnose, treat, cure, or prevent any disease.