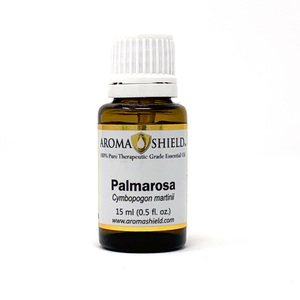 Palmarosa is an Ayurvedic grass used therapeutically in India for centuries. Its lemon-rose aroma is sometimes used as a less expensive alternative to rose oil. It is traditionally used for all sorts of skin problems from wrinkles and dermatitis to eczema and psoriasis.
DETAILS

BENEFITS

SAFETY

Reviews
Botanical name

Cymbopogon martinii


Country of origin

India

Extraction method

Steam-distilled from organic palmarosa leaves and stems

Dilution ratio

Neat (no dilution necessary)


Application method

Inhalation
Topical Application

Palmarosa has been traditionally used to:
Kill or retard bacteria or viruses

Fight infection topically

Strengthen blood vessels and improve blood flow

Stimulate appetite and support digestion

Reduce fever

Soften and smooth skin texture
KID-FRIENDLY
Keep out of reach of children and well away from eye area. If pregnant or under doctor's care, consult your physician before using.
Food Flavoring
Can be used in small amounts as a flavoring to fresh or prepared food.
These statements have not been evaluated by the Food and Drug Administration. Aroma Shield products are not intended to diagnose, treat, cure, or prevent any disease.