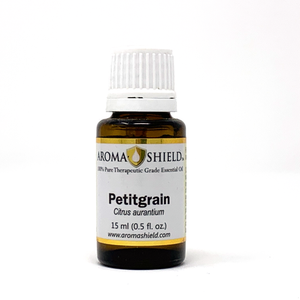 Distilled from the leaves and twigs of the bitter orange tree, this oil has a wonderfully uplifting aroma, often used to chase negative thoughts and feelings. Some have found it very relaxing and even helpful in eliminating insomnia at night. It has been used in a number of formulas for oily skin and acne.
DETAILS

BENEFITS

SAFETY

Reviews
Botanical name

Citrus aurantium (twigs/leaves)


Country of origin

Paraguay


Extraction method

Steam-distilled from petitgrain leaves and stems

Dilution ratio

1:1 (parts essential oil to carrier oil)


Application method

Diffusion
Inhalation
Topical Application

Petitgrain has been traditionally used to:
Kill or retard bacteria

Fight infection topically

Improve and lift mood

Reduce pain, redness, and swelling that accompanies inflammation

Mask or neutralize unpleasant body odors

Relieve tension in muscles and organ 

Support and improve nerve function

Calm and soothe the central nervous system
Keep out of reach of children and well away from eye area. If pregnant or under doctor's care, consult your physician before using.
These statements have not been evaluated by the Food and Drug Administration. Aroma Shield products are not intended to diagnose, treat, cure, or prevent any disease.