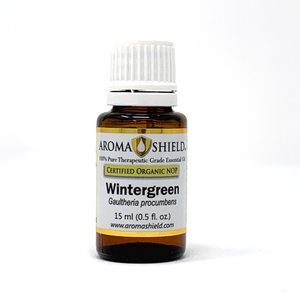 Wintergreen has a pleasant candy-like aroma, but must be used with care as an essential oil. since it is usually 90% methyl salicylate, which contains the same active ingredient as aspirin. When used correctly, wintergreen may significantly reduce inflammation and pain in sore or arthritic joints and strained muscles.
DETAILS

BENEFITS

SAFETY

Reviews
Botanical name

Gaultheria procumbens


Country of origin

Nepal

Extraction method

Steam-distilled from organic wintergreen leaves and stems

Dilution ratio

1:2 (parts essential oil to carrier oil)


Application method

Inhalation
Topical Application

Wintergreen has been traditionally used to:
Reduce and soothe localized pain

Relieve joint pain from arthritis and rheumatism

Reduce pain, redness, and swelling that accompanies inflammation

Relieve tension in muscles and organs 

Fight infection when applied topically

Improve concentration

Suppress the urge to cough

Shrink or tighten body tissues when applied topically 

Remove water from body tissues and increases urination

Promote more regular and less painful menstruation

Increase the secretion of breast milk
Keep out of reach of children and well away from eye area. If pregnant or under doctor's care, consult your physician before using.
High Blood Pressure Warning
Avoid using this essential oil if you are taking any blood thinner medications such as aspirin, heparin, or warfarin.
These statements have not been evaluated by the Food and Drug Administration. Aroma Shield products are not intended to diagnose, treat, cure, or prevent any disease.