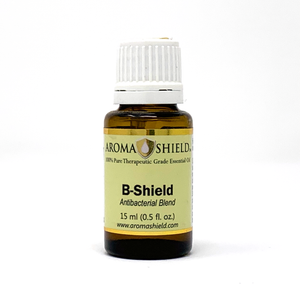 Bacteria Shield™ is formulated to neutralize and destroy bacteria. It's ideal for cleaning and disinfecting kitchen, bathroom, or other surfaces where bacteria can thrive--without a harsh disinfectant smell.

DETAILS

USAGE

SAFETY

Reviews
APPLICATION METHOD
Inhalation
Topical Application
DILUTION RATIO
1:1 (parts essential oil to carrier oil)
Essential oils affect different people in different ways. If you have concerns about your sensitivity to essential oils, do a quick skin test by putting one drop of the desired essential oil on the inside of your arm. See the Aroma Shield Safety Center for more information.
GENERAL SAFETY
Keep away from children. Consult a physician before using if you are taking medications or under doctor's care.
ALLERGY CAUTION
Consult a physician before using if you have severe allergies.
PREGNANCY CAUTION
Consult a physician before using if if pregnant or planning to become pregnant.
EYE IRRITATION
Keep well away from eye area.
SKIN IRRITATION
May cause skin irritation on sensitive, damaged, or Asian skin if not diluted fully. Dilute with a carrier oil according to the dilution ratio before applying to skin.
These statements have not been evaluated by the Food and Drug Administration. Aroma Shield products are not intended to diagnose, treat, cure, or prevent any disease.