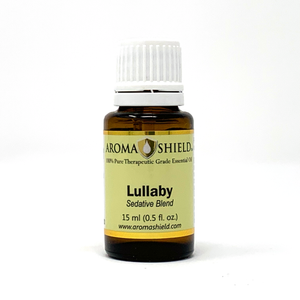 Lullaby™ contains a number of oils that have a sedative effect on the central nervous system, including valerian, which has been researched for its ability to induce sleep. It was formulated as a natural tool to help relieve insomnia.
DETAILS

USAGE

SAFETY

Reviews
Application Methods

Inhalation
Topical Application
Dilution Ratio

Neat (no dilution necessary)
Precautions: non-toxic, non-sensitizing, non-irritant. Do not use while driving or operating heavy equipment. Keep away from children and well away from eye area. If pregnant, taking medications, under doctor's care, or experiencing severe allergies, please consult your physician before using.
These statements have not been evaluated by the Food and Drug Administration. Aroma Shield products are not intended to diagnose, treat, cure, or prevent any disease.