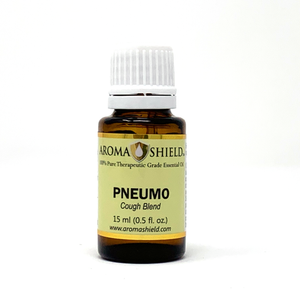 PNEUMO™ is formulated to create a calming, relaxing effect in the throat and lungs while opening airways, making regular breathing easier.
DETAILS

USAGE

SAFETY

Reviews
INGREDIENTS
Certified organic and pure-grade sweet basil (Ocimum basilicum), balsam fir (Abies balsamea), eucalyptus (Eucalyptus globulus), rosemary (Rosmarinus officinalis), hyssop (Hyssopus officinalis), and lemongrass (Cymbopogen citratus) essential oils; fractionated coconut (Cocos nucifera) oil

APPLICATION METHOD
Diffusion
Inhalation
Topical Application
DILUTION RATIO
1:1 (parts essential oil to carrier oil)
Keep out of reach of children and well away from eye area. If pregnant or under doctor's care, consult your physician before using.
These statements have not been evaluated by the Food and Drug Administration. Aroma Shield products are not intended to diagnose, treat, cure, or prevent any disease.