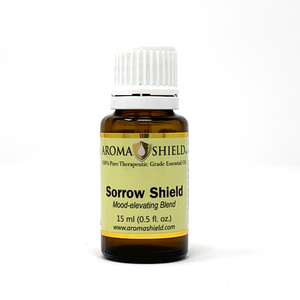 Sorrow Shield™ is formulated from oils that have been used to encourage positive thought and feeling. When negativity begins to overwhelm the emotional center, aromatic stimulation can trigger brain responses that make it easier to alter course, mentally. Sorrow Shield™ was blended to create an aroma that would make this change easier and more immediate.
DETAILS

USAGE

SAFETY

Reviews
INGREDIENTS
Certified organic and pure-grade tangerine (Citrus reticulata), sweet basil (Ocimum basilicum), Scots pine (Pinus sylvestris), frankincense (Boswellia carteri), jasmine (Jasminum grandiflorum), and geranium (Pelargonium graveolens) essential oils; fractionated coconut (Cocos nucifera) oil

Application Method
Inhalation
Topical Application
Dilution Ratio
1:1 (parts essential oil to carrier oil)
Keep out of reach of children and well away from eye area. If pregnant or under doctor's care, consult your physician before using.
These statements have not been evaluated by the Food and Drug Administration. Aroma Shield products are not intended to diagnose, treat, cure, or prevent any disease.