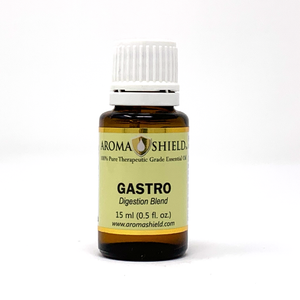 The oils in GASTRO™ all have properties that support the digestive process, ease indigestion, relieve gas, and soothe intestinal discomfort. Peppermint is regularly researched as an aid to IBS, while ginger and fennel have been cited as soothing to the stomach.
DETAILS

USAGE

SAFETY

Reviews
APPLICATION METHOD
Inhalation
Topical Application
DILUTION RATIO
1:1 (parts essential oil to carrier oil)
Keep out of reach of children and well away from eye area. If pregnant or under doctor's care, consult your physician before using.
These statements have not been evaluated by the Food and Drug Administration. Aroma Shield products are not intended to diagnose, treat, cure, or prevent any disease.