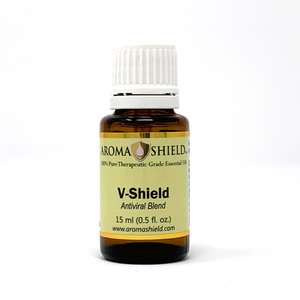 Virus Shield™ combines the antiviral properties of 8 essential oils known for their virus fighting properties. Virus Shield™ was formulated as a natural tool to fight common viral infections such as colds, influenza, chicken pox, shingles, measles, mumps, cold sores, and viral pneumonia.
DETAILS

USAGE

SAFETY

Reviews
Application Method
Topical Application
Dilution Ratio
1:1 (parts essential oil to carrier oil)
Mild Photosensitizing
Avoid sun exposure for 12-24 hours after applying this essential oil topically.
General Safety
Keep out of reach of children and well away from eye area. If pregnant or under doctor's care, consult your physician before using.
These statements have not been evaluated by the Food and Drug Administration. Aroma Shield products are not intended to diagnose, treat, cure, or prevent any disease.